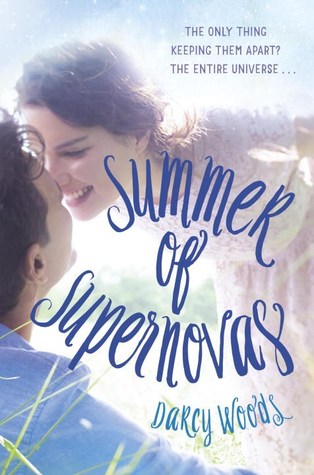 Summer of Supernovas
Rating: 4 out of 5 Cosmic stars
Astrology obsessed teen Wilamena Carlsile has looked towards the stars for most of her decisions in life. When she discovers a planetary alignment that won't repeat for another decade, she's forced to tackle the fifth house of relationships and love. But when Wil falls for a sensitive guitarist who hails from the wrong side of the astrological chart, she must decide whether a cosmically doomed love is worth rejecting her mother's legacy.
The Summer of Supernovas is the perfect summer read. Take it to the beach, park or on any vacation and it will delight and entertain.
I have been waiting for this book for some time. The minute it came out I knew this book was going to save me from the drought (long story). This book has everything you need in a summer book:
1.) It is not over-wrought with drama or unnecessarily mean character. This book does focus on some personal issues the characters have but it approaches these issues with out completely bogging down the story of making it depressing and dreary.
2.) Cute, lovable, and quirky characters. Every character in this book is unique and wonderful. They each have traits that are honestly refreshing in a YA book. There are no real stereotypes here and I loved Wil's funky vintage style because we have that in common. The minute that she mentioned doing her hair in victory rolls I was sold!
3.) A Wonderful Romance filled with Passion. I not going to give away a plot twist but a large portion of the book deals with astrology and signs. Wil and her special someone had heat a passion from the moment they meet and I was completely enamored. He is the perfect, sweet, and caring guy. I wasn't surprised when we learned his sign because I too am that particular sign and we are awesome!!
Summer of Supernovas is Darcy Woods debut novel and if she keeps delivering books like this she will instantly make it to my authors who I adore list.
Until the next Review,
See Ya!!