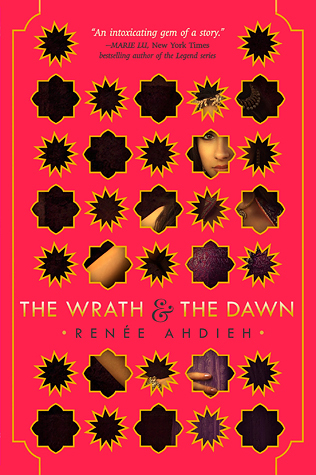 The Wrath and The Dawn
by Renee Ahdieh
In a land ruled by a murderous boy-king, each dawn brings heartache to a new family. Khalid, the eighteen-year-old Caliph of Khorasan, is a monster. Each night he takes a new bride only to have a silk cord wrapped around her throat come morning. When sixteen-year-old Shahrzad's dearest friend falls victim to Khalid, Shahrzad vows vengeance and volunteers to be his next bride. Shahrzad is determined not only to stay alive, but to end the caliph's reign of terror once and for all.
Night after night, Shahrzad beguiles Khalid, weaving stories that enchant, ensuring her survival, though she knows each dawn could be her last. But something she never expected begins to happen: Khalid is nothing like what she'd imagined him to be. This monster is a boy with a tormented heart. Incredibly, Shahrzad finds herself falling in love. How is this possible? It's an unforgivable betrayal. Still, Shahrzad has come to understand all is not as it seems in this palace of marble and stone. She resolves to uncover whatever secrets lurk and, despite her love, be ready to take Khalid's life as retribution for the many lives he's stolen. Can their love survive this world of stories and secrets?
I was seriously surprised by this book. I don't know what I was expecting but I didn't expect to become so enthralled by it and I promise, you will too once you read it and here's why:
1.) THE WRITING:
Such imagery. The words actually leap off the page. You can imagine the clothes that they are wearing and the food that they are eating. Ahdieh brings to life the world that Shahrzad lives in and the past that haunts Khalid I was completely captured in the story to the point where I couldn't wait for the smallest breaks at work just so I could dive back in.
2.) If You Begged for More Diversity:
The Wrath and the Dawn in the most diverse YA book I've read in a while. It is loosely based on the story A Thousand and One Nights. Every character remains true to the original Persian story's origin even to the point of having historically appropriate facts which is always a bonus. It brings to life a culture that is rarely mentioned in books and it was interesting to learn about the style of dress and typical food. I even learned some new words!!
3.) Shahrzad and Khalid:
4.) But Seriously Every Character in This Book is Awesome:
Even the annoying ones you want to kick in the shin are great at being perfectly annoying. TW&TD is told mostly from Shazi's POV but it does alternate between a few other characters POV. I usually don't like books with multiple POVs but I actually didn't mind it in this book because there was a purpose for the alternating views and like I said it doesn't happen frequently. I love Shazi she was sassy but not in way that made her seem stubborn or reckless. The author gave her strength without making her seem childish. I especially loved Jalal and Despina as secondary character. Despina was hilarious as Shazi's handmaid and she was so spunky and fiery you got to like that in a person. Jalal was amazing because he was trying so hard to be Khalid's friend and he has this suave cool personality. I liked that he was loyal to Khalid despite all of his stubbornness.
5.) And Of Course The Plot:
What is a book without a little drama and believe me there is some drama going on up in here!!! This book has a bit of mystery with a touch of politics. Every thing that happens flow effortlessly in a way that would make sense. In other words there's no unnecessary drama. It's drama with a point and I have been missing that idea in a few books lately. I do hope we get to see more ideas that was touched on in this book in the next one.
I can't wait for the next book, The Rose and the Dagger which comes out next week. Unfortunately, there are only two books for Shazi and Khalid but I eagerly anticipate (more like impatiently wait for) next week so I can dive in and finish this magical story.
Seriously you should pick this up, like stop reading this and do it already!!!
Until the Next Review,
See Ya!!!!