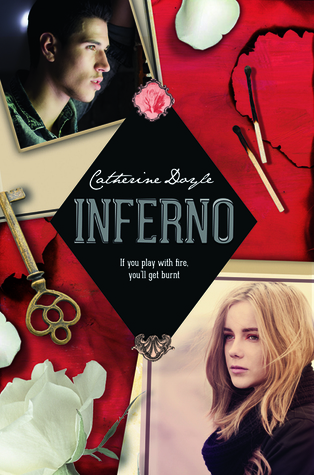 Inferno
by Catherine Doyle
Sophie's life has been turned upside-down, and she's determined to set things right. But Nic, the Falcone brother who represents everything she's trying to forget, won't give up on their love - and it's Luca's knife she clutches for comfort. Soon another mafia clan spoils the fragile peace - and with her heart drawn in one direction and her blood in another, Sophie's in deeper than ever.
So Long book slump and thank you Catherine Doyle!!! When Vendetta came out last year I was on that series like it was my job!! It had pretty much everything I loved in one book. It was dark, romantic, and filled with some criminal mystery elements that pretty much put the cherry on top for me! I crawled around the bat cave and found this: my ancient review for
Vendetta
, just for y'all.
Inferno did not disappoint me, which is a good thing because it was only released internationally and that was not cheap. I am just so happy with this series! Inferno promised some twist and turns (and some more Luca) so I could not wait to dive in.
Inferno picked up were Vendetta left off with a lot of questions and with our main home-girl Sophie wondering what's next. Having to abide by the Mafioso rule of omerta (talking to the police means sleeping with the fishes), Sophie tries to rid her life of Nic and his family once and for all. Of course that's easier said than done when her uncle hides amongst the Falcone's greatest enemy, a rival Mafia know as the Marinos.
I can't tell you what I expected from this book but it has definitely left me feeing a bit better. What I loved most about Sophie in the previous book was her strength. A lot of crap goes down in this book and instead of becoming this heartless person she still maintains the boundaries of what's right and what's wrong. I liked how the author didn't shy away from the fact that due to the going's on in the end of Vendetta, Sophie was dealing with some emotional trauma and PTSD.
One thing I really love about this book is despite the fact that Nic and Sophie were all over each other in the last book she did not cut him slack in this one. Thank Goodness!!! I hate when the male interest does something unforgivable and the MC just kinds of makes excuses for him. In this book we really got to understand Nic and I am safe to say that I'm glad we did because Luca.
Oh Luca. Sweet precious sassy Luca. UGH!!! I shipped them so hard in the last book and I didn't care. I will continue to ship them until it is real! Until it becomes freakin' ridiculous. I believe in this SHIP!!!! OK! Catherine Doyle gives it LIFE!!!!
I feel like in this book we learned more about secondary characters like Sophie's BFF Millie who really is like the world's greatest friend. We also got to see more of Sophie's father and her family.
This book proved to be just as intense as Vendetta and I am impatiently waiting for the third and final book in this series. If you haven't read this series yet find Vendetta and give it some love!
Until the next Review,
See Ya!!