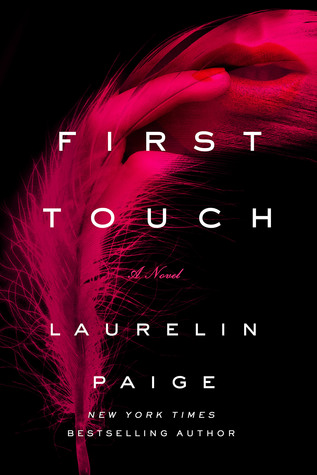 First Touch
by Laurelin Paige
Rating: 2/2.5 out of 5
When voice actress Emily Wayborn visits her mother in California she discovers a voicemail left by her former BFF Amber. The message is brief but the use of Amber and Emily's old code word shows that Amber is in trouble. To makes matters worse after the discovery of the voicemail it appears that Amber is missing.
With limited knowledge of her old friend's new life, Emily hires and investigator and must actively involve herself in the search for her friend. This investigation leads her to a secret world, that involves suspicious tycoon, Reeve Saalis. The question is how far will Emily go to save her friend?
*BE WARNED THIS BOOK IS FOR MATURE READERS*
I really enjoyed Laurelin Paige's Fixed Series. Her ability to craft a great and compelling story with interesting characters is what pulled me into Fixed on You as well as her new book. Unfortunately this one fell a bit flat for me.
This is a dark book but honestly this isn't one of the things that turned me off. What made me dislike this book was the slow pace and unlikability of almost any character. I felt that I couldn't really care about anyone in this book because they were so completely horrible, which I get adds to the suspense and grittiness of the novel. While I don't mind that they weren't skipping through fields of sunflowers talking about peace, love, and harmony at some point I wanted someone to show some real emotions.
The MC was alright for the most part and I get why she was trying to change her life. My problem with her was (and excuse my abrasiveness here) the minute the guy started giving her the dick she all but forgot about her damn friend. Even to the point were she began to get a bit jealous of the fact that her missing and in trouble friend used to sleep with him. And while Amber wasn't a saint (at some point I even began to question why she was looking for her) still help a sister out. By that point the book became completely about Reeve and Emily's "relationship" instead of finding Amber which lead to some pretty boring middle parts.
About half-way through the book I wanted something to happen and someone to have a redeemable quality but it just wasn't meant to be. What it comes down is a clear case of this book just isn't for me. First Touch ends in a cliff hanger and while I am intrigued I won't be jumping at the chance to get to Last Kiss anytime soon.
Irresistibly Yours
by Lauren Layne
Rating: solid 3.5 out of 5 stars
Sports writer Cole Sharpe is a freelance writer for the esteemed men's magazine Oxford. When he discovers they have a position for a sports editor he thinks nothing can stop him from his dream job. Queue in adorkably cute sports writer Penelope Pope. Wanting to escape Chicago, Penelope jumps at the chance to start fresh at Oxford magazine there's only one thing standing in her way...
Some think that two people vying for the same job can't be friends but what blooms between Penelope and Cole is a lot more than friendship after a steamy night together. Can they put love on the line?
Lauren Layne's Blurred Lines was the first book I read and reviewed this year and I LOVED IT!!!! While I equally enjoyed Irresistibly Yours I wasn't as swept away as I was with her previous book.
I really enjoyed this book. Penelope and Cole are so cute even their names sound great together. Like a trendy fashion label that I can't afford. I adored their connection together. They had fun sporty banter and great chemistry. I loved Cole. I thought he was amazing and so misunderstood. Everyone made assumptions about him and his love life and the kind of person he is but that was the way he wanted to be seen to protect himself. He was definitely the highlight of this book for me and I enjoyed his character a lot. I especially loved how he fell in love with Penelope's personality and saw both her inner and outer beauty (seriously I just need a Cole in my life).
Penelope was so sweet and cute. She seemed like a cool person that you could just hang around and chill with. She was honest and refreshing which I liked. She was really insecure because she is petite and a tomboy. Men aren't beating down the door for her attention. Which really blocks her and Cole's relationship in the beginning.
What through me off for this book was Penelope's obsession with a former crush, Evan, who kind of screwed her over. I felt that it was dragged out way too long. After a while I really stopped caring about it. She had a crush and it ended badly but if it was me, I would have been more angry than heartbroken. However, that's just my personality. I also wished we got to learn more about Cole's brother and the relationship they had.
Have you read one of these books? If so, what did you like about them?
Until the next Review,
See Ya!!