It is a nice Sunday here in Seattle. Awesome Sundays deserves some kick-ass music:
So as you all know, I've been applying to graduate school. Well I finally turned in my applications a while ago and now I have to wait. The date for letters are coming up way sooner than I want them to and I hate to admit it but it is getting to me. This is so nerve wracking. I'm a very anxious person and I am also quite insecure. I had pretty bad anxiety up until my sophomore year of college and just when I think I manage it, it comes around in full swing and I'm in full panic mode in a matter of seconds. I hate feeling this way but I really, really want this so these next couple of days are going to suck. The best and easiest way to distract myself is usually by reading some kick-ass books. As always I love a good recommendation so feel free to put something in the comments.
In happier respects; I have been really proud at myself for managing my #ThrowbackThursday post. I usually so wishy-washy when it comes to keeping up with specific day post, that I am actually surprised that I am doing this. I think I might actually get my tbr down, that is if I stop adding books to my tbr but it's not like I'm ever going to do that.
WHAT'S ON TV
I do love TV but I so rarely have the time to watch it. I would blame it on Netflix because now I like to binge everything but really I blame it on university. Nothing ruins TV like finals and 20 page papers. So now I'm starting to get back into watching TV regularly again.
I just started season 2 of Galavant and I LOVE this SHOW!!!!! It is so dang funny and I just hate that the episodes are so short. I want more!!!!! You would think a show with so much singing would suck but the cast is great and the tunes are hilarious!
I'm finally catching up on Arrow. While this season is a bit more calm it still isn't doing my emotions any favors.
I'm also getting unbelievably excited for Season Three of The 100!!! Whoot Whoot have you seen the preview for it!
Episode One from Season Three premiered on Thursday and yeah I'm all for this season. I can just tell that my babies are going to get their asses handed to them this season. All I know is that if anyone of them dies I will LOSE IT!!! OK especially Jasper, don't hurt him!!! (even though he is being a butthead so far).
Also DC's Legend of Tomorrow premiered on Thursday as well and I am so there. I just like seeing Sarah some place nice and I think she is the most kick-ass BAMF on the whole show and everyone else should just respect her authority.
The CW has so many GREAT SHOWS. Jane the Virgin, The Flash (which I just started watching on Netflix), Arrow, The 100 and now Legend's of Tomorrow. I bet that are laughing all the way to the bank with the ratings they are getting!
WHAT I'VE READ, BUT DIDN'T REVIEW FOR THIS WEEK
This week had to be the best week of reading know to civilization. I read some many good books, I'm scared. Genuinely frightened because it can only go down hill from here.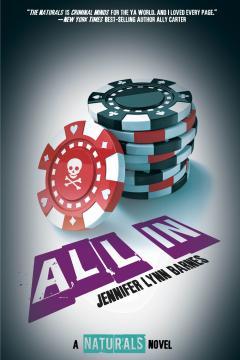 I finally got around to reading
All-In
. The third book in Jennifer Lynn Barnes Naturals Series and WOW! So dang good! so good!!!! So many twist and turns and unexpected great things. We got to learn more about every character and I am so in love with this story. Jennifer Lynn Barnes is seriously becoming one of my favorite author's.
I read the second book in the Legal Briefs Series by Emma Chase.
Sustained
was pure perfection. I smiled, I laughed, I got way too emotional. I rarely read (or like) books with kids in them but these children have so much personality and life, it is hard mot to fall in love with them.
IN THE NEXT WEEK:
So, for this upcoming week; I will have a new #Throwbackthursday post. I'm thinking it's going to be Flat-Out Love by Jessica Park. I also got my hand on a copy of Feverborn by KMM and I need to continue this series like pudding cups are required in elementary lunches. I finally got my copy of Inferno in the mail so I cannot wait to continue this trilogy. I also have some discussion-type posts scheduled.
WHAT ARE YOU WATCHING ON TV? WHAT ARE CURRENTLY READING OR LOOKING FORWARD TO FOR THIS WEEK?