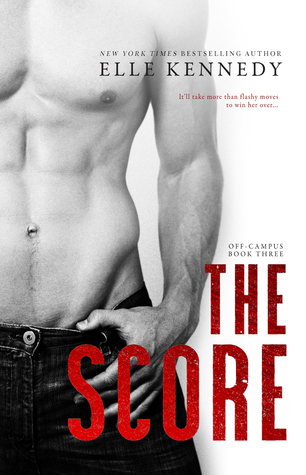 The Score
by Elle Kennedy (Off- Campus #3)
Rating: 5 out of 5
Recommended for: everyone and anyone
Dean is a ladies man. He knows what he whats and he always gets it. But this time what he wants is his best friend's girlfriend's best friend, Allie Hayes and he is not giving up easily.
After breaking up with her boyfriend Allie needs some distance however she didn't expect that distance to lead her into a steamy night with Dean.
If I had to go into a burning building (don't ask) and save one book from this series, I would save this one hands down. Sorry Logan, sorry Garrett but Dean just stole me away.
The Score was utter perfection and it will probably ruin other NA books for me because the expectation is high after this one!
Lately it seems as though there have been a turn in events in New Adults books. It is more probable that I've become picky as all hell because I've been burned one to many times by the ridiculousness that is the NA world. However, I've been reading some dang good NA books and it's giving me some faith in this genre.
FOUR REASON WHY THIS BOOK GIVES ME HOPE FOR THE FUTURE
1.) The Characters. I want to thank Elle Kennedy for not letting Dean become a big ol' stalkery mess while, letting Allie be as sexual as she wants.
I'm serious, no weirdness with these two characters. The way Elle Kennedy gives these characters life is so dang amazing. Everyone in this series are like normal every day people. They don't have any ridiculously sad backstories they just are and that's awesome!!!
2.) Holy Hotness Batman!!
3.) Laugh Out Loud Funny
I read part of this book at work (don't judge me it was a slow day) and I seriously had to control my laughter. I thought Garrett and Hannah were funny but these two were on the express train to lols island.
4.) Communication
Can you imagine talking to some about your feels?!?!?! IMAGINE!!! Dean and Allie knew what they wanted and they weren't afraid to talk about it. They knew what their relationship was and what they wanted from it. They had no problems expressing their feelings whether they were happy ones, sad ones, pissed off feelings whatever. They did that thing were they talked to each other!
So yeah do yourself a favor and get this book. If you liked The Deal and The Mistake buy it! Just go! You won't be disappointed. BTW, If you haven't read The Deal then you should! What are you waiting for?
With delightful, funny, and honest characters The Score can easily be one of my favorite books this year. Tune in for the next book in the Off-Campus series The Goal which I believe is coming out in June of this year.
Until the next post,
See Ya!!!