__________________________________________________________________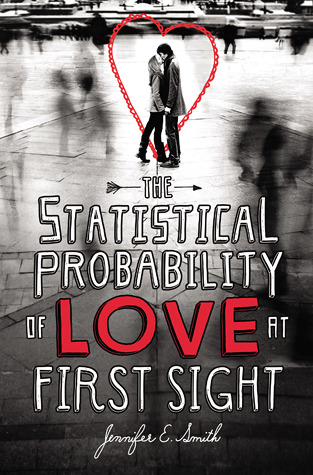 The Statistical Probability of Love at First Sight
by Jennifer E. Smith
Rating: 3.5 out of 5
Recommended for: contemporary romance, contemporary ya
After missing her plane to London, Hadley Sullivan is stranded at the airport when she meets fellow traveler Oliver. After spending the seven hour plane ride getting to know each other they lose each other in the arrival terminal. Can they find each other again in a big city?
So I've wanted to read this book for a really long time and while I did enjoy it I felt like something was missing. I feel like the problem was that I read it after The Geography of You and Me which, I loved. I do think that this book was too short and that somethings could have been fleshed out. Over-all it was cute and I liked it but it didn't blow me away.
Hadley is going to visit her father for the first time since her parents split and she would rather go anywhere else than to his wedding with his new bride. After a series of freak accidents makes her four minutes late to her plane, she's stuck at the airport dreading the trip ahead when she meets Oliver.
Hadley and Oliver are both dealing with some pretty heavy family situations. Despite that they manage to make the best of a trip they both weren't looking forward to by getting lost in each other. Oliver is very witty and adorable. I love his whole I like statistics thing, it was cute. I really enjoyed Hadley's character because I think she matured a lot by the end of the book. Considering this book is just past 200 pages, that is some impressive character growth.
I did like that Hadley was able to connect again with her father. Oliver and Hadley were dealing with the same issues, in regards to their fathers, but in parallel situations and I think it gave perspective to Hadley's terrible relationship with her father.
This was a really good and quick read. I wanted to see more than the quick fix relationship with her father and maybe something more with Oliver. In the end, The Statistically Probability of Love at First Sight, just shows that Jennifer E. Smith is the queen of YA contemporary romance and almost made me believe in love at first sight.
Until the next review,
See Ya!!