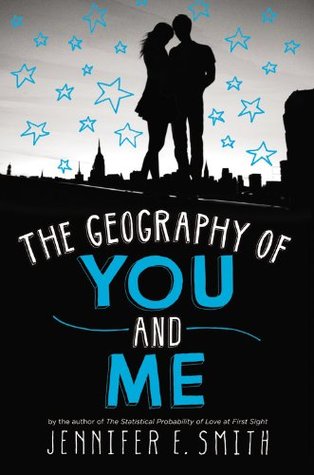 The Geography of You and Me
by Jennifer E. Smith
Rating: 4 out of 5
Recommended for People Who: love love, enjoy a great contemporary romance, and traveling.
During a city wide blackout, Lucy and Owen meet while they are stuck in an elevator. Instead of going their separate ways they decide to explore the darken city together and so a connection for that they can't deny. In the light of they day they must return to their ordinary lives but they can't forget the connect they had. When Lucy finds out she's moving half way around the world and Owen decides to travel west with his father, thye decide to keep in touch through post cards. as they navigate the world Lucy and Owen's relationship grows until the find out the one place they really want to be.
While this book isn't Christmasy, it did give me the feels. I freaking loved this book. It was just what I needed. While I might not like to admit I am such a softy. Seriously, I love books that are all lovey dovey and cheesy and I just don't care. When I think about it it's not surprising, I do love to spend my spare time watching awfully cheesy romances on the Hallmark channel (judge me its ok I can take it) so it's no surprise I absolutely loved the cuteness of this book.
What I'm really starting to like about Jennifer E Smith, is while all her books are contemporary romances she does manage to touch on other important things. In this book it is Lucy's relationship with her parents and Owen and his father dealing with grief. However, she doesn't let those things overpower the initial story.
I love traveling in books. I have no idea why, it just seems fun (even though I know from experience that constantly traveling can get tedious). While Owen traveled west in the US, Lucy traveled in Europe.
Lucy and Owen travel through most of the book and only keep in contact with postcards and the occasional email, despite the fact that they've only spent one day together. I usually don't like books where the couple falls madly in love after one day (I'm probably the only person who didn't like Just One Day) but, Lucy and Owen knew of each other and they weren't so head over heels after locking eyes so that was ok with me. What truly impressed me about this book was the fact that they spent one day with each other and only talked to each other twice face to face after that but their chemistry was so believable that it could be a long distance connection and still work. I never doubted their feelings for each other.
Owen's father rove me a bit crazy. I understand that he was grieving but I wanted to shake him and tell him to pull himself together. In the end, he did, in the greatest city ever, Seattle. Where I'm sure Lucy will move to after she graduates high school and they will both go to UW, the end, yay!
Until the next review,
See Ya!!!!